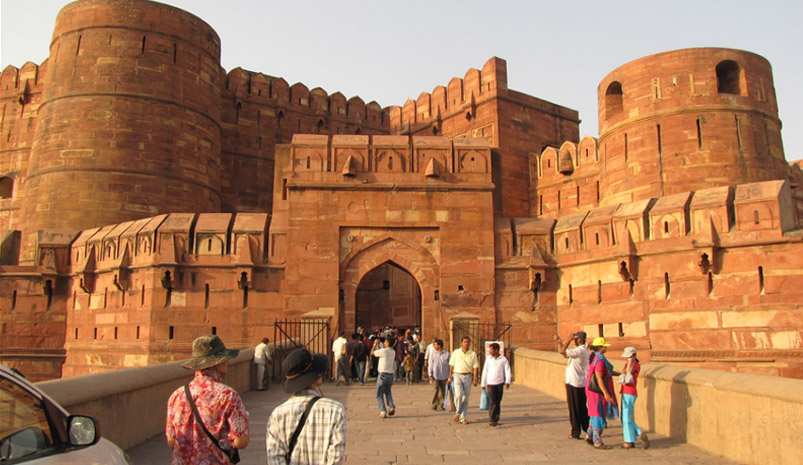 Agra
---
Agra, a city in the northern state of Uttar Pradesh, India, is renowned for its historical and architectural wonders. Here are some of the must-visit destinations in Agra:
Taj Mahal: One of the Seven Wonders of the World, the Taj Mahal is an iconic mausoleum built by Emperor Shah Jahan in memory of his beloved wife. It is renowned for its exquisite white marble architecture and stunning symmetrical gardens.
Agra Fort: Also known as the Red Fort of Agra, it is a UNESCO World Heritage site and a magnificent Mughal fortress. The fort showcases impressive palaces, mosques, and halls within its red sandstone walls, offering a glimpse into India's rich history.
Fatehpur Sikri: Located just outside Agra, Fatehpur Sikri is a well-preserved ghost city built by Emperor Akbar. It served as the capital of the Mughal Empire for a brief period and features stunning palaces, mosques, and courtyards with intricate architecture.
Itmad-ud-Daulah's Tomb: Often referred to as the "Baby Taj," this exquisite tomb is a precursor to the Taj Mahal and is known for its delicate marble inlay work. Itmad-ud-Daulah's Tomb is set amidst beautiful gardens and provides a serene atmosphere.
Mehtab Bagh: Situated across the Yamuna River from the Taj Mahal, Mehtab Bagh is a charbagh-style garden that offers a stunning view of the Taj Mahal at sunset. It is a perfect spot for photography enthusiasts and nature lovers.
Akbar's Tomb: Located in Sikandra, on the outskirts of Agra, Akbar's Tomb is the final resting place of Emperor Akbar. The tomb's grand architecture and serene surroundings make it a noteworthy attraction.
These destinations in Agra showcase the city's rich Mughal heritage and are a testament to its historical significance. Remember to plan your visits accordingly, as some sites may have specific visiting hours and entry fees.
History
---
Agra has a rich and vibrant history that spans centuries. The city's historical significance can be traced back to ancient times, when it was a part of various kingdoms and empires. However, Agra truly rose to prominence during the Mughal era. In the 16th and 17th centuries, it served as the capital of the Mughal Empire under Emperor Akbar, who transformed it into a thriving cultural and architectural hub. The most iconic monument of Agra, the Taj Mahal, was built by Emperor Shah Jahan as a mausoleum for his beloved wife. Agra continued to flourish as a center of art, architecture, and trade, leaving behind a remarkable historical legacy.
Geography
---
Agra is a city located in the northern state of Uttar Pradesh, India. It is situated on the banks of the Yamuna River and is part of the Gangetic plains. The city is approximately 200 kilometers southeast of the Indian capital, New Delhi. Agra is situated at an average elevation of 171 meters (561 feet) above sea level. It is surrounded by a fertile agricultural region and is known for its rich alluvial soil. The Yamuna River, which flows through the city, not only adds to its scenic beauty but also serves as a crucial water source for the region. The city's geography, with its riverside location and proximity to the Gangetic plains, contributes to its historical and cultural significance.
Weather
---
Agra experiences a subtropical climate with hot summers and cool winters. Here's a breakdown of the typical weather in Agra:
Summer (April to June): Summers in Agra are extremely hot and dry, with temperatures often soaring above 40°C (104°F). May is usually the hottest month, with scorching heat and low humidity.
Monsoon (July to September): Agra receives moderate to heavy rainfall during the monsoon season. The city experiences occasional thunderstorms and showers, which provide relief from the summer heat. The temperature during this period ranges from 25°C to 35°C (77°F to 95°F).
Autumn (October to November): Autumn in Agra is characterized by pleasant weather, with temperatures gradually cooling down. Days are warm, with temperatures ranging from 25°C to 30°C (77°F to 86°F), while nights become cooler.
Winter (December to February): Winters in Agra are cool and comfortable, with temperatures ranging from 8°C to 24°C (46°F to 75°F). December and January are the coldest months, with nighttime temperatures dropping to around 7°C (45°F). It is advisable to carry warm clothing during this time.
Overall, the best time to visit Agra is during the winter season, from October to March, when the weather is pleasant and suitable for outdoor activities. However, it's always a good idea to check the weather forecast before planning your trip to ensure a comfortable and enjoyable experience.
How to reach
---
Agra, being a popular tourist destination in India, is well-connected by various modes of transportation. Here are the common ways to reach Agra:
By Air: The nearest airport to Agra is the Indira Gandhi International Airport in New Delhi, which is about 220 kilometers away. From there, you can take a domestic flight to Agra's Kheria Airport. Alternatively, you can hire a taxi or take a train from New Delhi to Agra.
By Train: Agra has excellent rail connectivity with major cities across India. The city has three main railway stations: Agra Cantt, Agra Fort, and Raja Ki Mandi. These stations are well-served by trains from cities like Delhi, Mumbai, Jaipur, and Kolkata, among others.
By Road: Agra is well-connected by road networks and can be easily reached by buses, taxis, or self-driven cars. The Yamuna Expressway connects Agra to Delhi, making the journey faster and more convenient. Several national highways also connect Agra to other cities and states.
By Bus: Agra is well-connected to neighboring cities and states through a network of government and private buses. Many tour operators offer bus services to Agra from nearby destinations like Delhi and Jaipur.
Once you reach Agra, local transportation options like taxis, auto-rickshaws, and cycle-rickshaws are available for getting around the city and visiting various tourist attractions. It's advisable to plan your travel in advance and check the schedules and availability of transportation modes for a smooth journey.
Getting Around
---
Getting around in Agra is relatively easy, thanks to various transportation options available. Here's how you can navigate the city:
Auto-rickshaws: Auto-rickshaws, also known as tuk-tuks, are a popular mode of transportation in Agra. They are readily available throughout the city and can be hailed from the roadside or near tourist attractions. Negotiate the fare with the driver before starting your journey or insist on using the meter if available.
Cycle-rickshaws: For short distances or within congested areas, cycle-rickshaws are a convenient and eco-friendly option. These manually-pulled rickshaws can be found near popular tourist spots and markets.
Taxis: Taxis and cabs are widely available in Agra. You can hire them for a few hours or for a full day to explore the city comfortably. Prepaid taxis are also available at the major railway stations and airports.
Electric Rickshaws: Agra has introduced electric rickshaws as a green and sustainable mode of transportation. These battery-operated vehicles are especially common around the Taj Mahal area and offer a pollution-free option for short trips.
Private Cars: Renting a private car or hiring a driver is another option for getting around Agra. Many car rental agencies offer services with or without drivers, providing flexibility and convenience for exploring the city and nearby attractions.
It's worth noting that certain areas in Agra, especially around the Taj Mahal, have restrictions on motorized vehicles. In such cases, you may need to rely on non-motorized transportation options or walk to reach your destination. Always consider traffic conditions and plan your travel time accordingly, especially during peak tourist seasons.