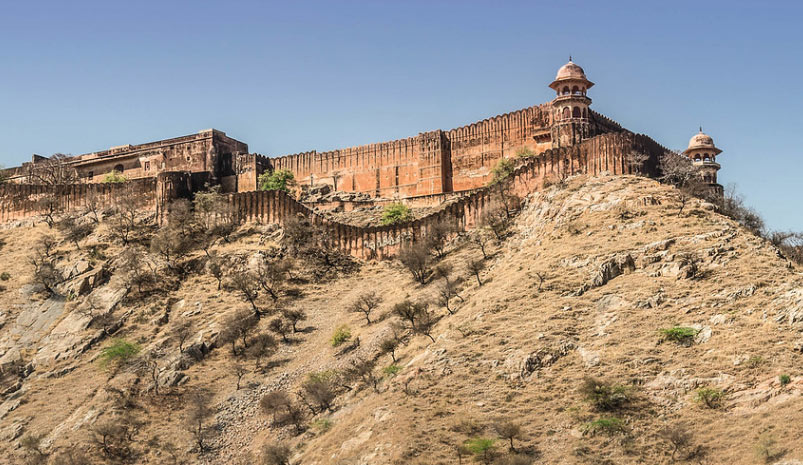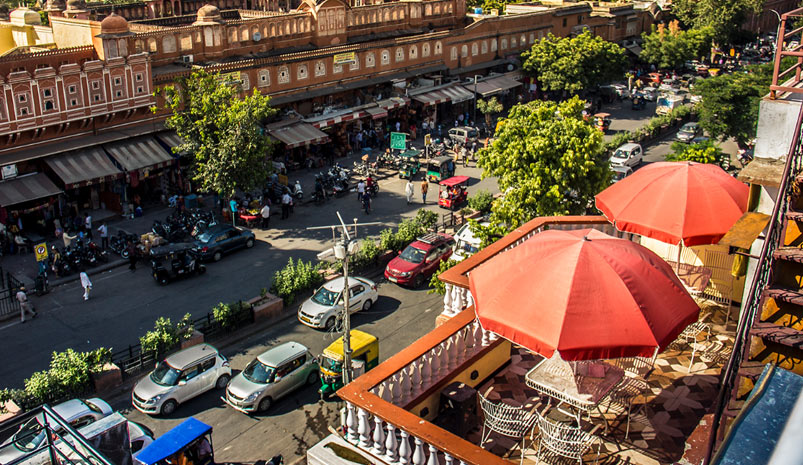 Jaipur
---
Jaipur is the capital and largest city of the Indian state of Rajasthan. It is located in the northwestern part of India and is often referred to as the "Pink City" due to the dominant color of its buildings. Jaipur is a popular tourist destination known for its rich history, vibrant culture, and magnificent architecture.
Here are some key features and attractions of Jaipur:
Hawa Mahal: One of the iconic landmarks of Jaipur, Hawa Mahal, also known as the "Palace of the Winds," is a stunning palace with a facade adorned with numerous windows and latticework.
City Palace: Located in the heart of Jaipur, the City Palace is a grand complex that showcases a blend of Rajput and Mughal architectural styles. It houses several palaces, gardens, courtyards, and a museum displaying royal artifacts.
Amer Fort: Situated on a hilltop, Amer Fort is a magnificent fort that offers panoramic views of the city. It features impressive architecture, including intricately designed gates, palaces, and a stunning marble hall of mirrors called Sheesh Mahal.
Jantar Mantar: This UNESCO World Heritage Site is an astronomical observatory built in the early 18th century. It consists of a collection of architectural astronomical instruments used to measure time, predict eclipses, and observe celestial bodies.
Jaigarh Fort: Perched on a hilltop overlooking Amer Fort, Jaigarh Fort is known for its well-preserved fortifications and impressive cannon foundry. It is also home to the largest cannon on wheels in the world, called Jaivana.
Nahargarh Fort: Another hilltop fort in Jaipur, Nahargarh Fort offers panoramic views of the city and the surrounding Aravalli hills. It is a popular spot for locals and tourists to enjoy the sunset and take in the beautiful scenery.
Albert Hall Museum: Located in Ram Niwas Garden, the Albert Hall Museum is the oldest museum in Rajasthan. It houses a diverse collection of artifacts, including sculptures, paintings, carpets, and an extensive display of traditional Rajasthani attire.
Markets and Bazaars: Jaipur is famous for its bustling markets and bazaars, where you can shop for traditional textiles, handicrafts, jewelry, and pottery. The Johri Bazaar and Bapu Bazaar are particularly popular for shopping.
Traditional Cuisine: Jaipur offers a variety of delicious Rajasthani cuisine, known for its rich flavors and unique spices. Some popular dishes include dal-bati-churma, gatte ki sabzi, laal maas (spicy mutton curry), and ghewar (a sweet dessert).
Festivals: Jaipur is known for its vibrant festivals, including the grand celebration of Diwali (Festival of Lights), the colorful Teej festival, and the Jaipur Literature Festival, which attracts renowned authors and literature enthusiasts from around the world.
These are just a few highlights of what Jaipur has to offer. The city is steeped in history, culture, and architectural splendor, making it a must-visit destination for travelers.
History
---
Jaipur, the capital city of Rajasthan, India, has a rich history. Founded in 1727 by Maharaja Sawai Jai Singh II, it was meticulously planned and designed with grand palaces, forts, and wide streets. Jaipur is known as the Pink City due to its distinct pink-colored buildings. The city's iconic landmarks include the majestic Amber Fort, the ornate City Palace, and the unique Hawa Mahal. Jaipur has been a center of art, culture, and commerce for centuries and continues to showcase the grandeur of Rajasthan's royal past. Today, it attracts visitors with its architectural splendor, vibrant markets, and cultural heritage.
Geography
---
Jaipur, located on the eastern edge of the Thar Desert, is situated at an elevation of 1,417 feet above sea level. It is surrounded by the majestic Aravali Hills on two sides. The city is bordered by several districts, including Sikar and Mahendragarh to the north, Tonk to the south, Nagaur and Ajmer to the west, and Alwar, Dausa, and Sawai Madhopur to the east. The total area of Jaipur is nearly 645 square kilometers.
The city of Jaipur is divided into six sectors or urban quarters. The Central Palace quarter is home to famous landmarks such as the Hawa Mahal and City Palace. It also features a small lake and royal gardens. This quarter is surrounded by five other quarters to the east, south, and west. The sixth quarter is located in the eastern part of Jaipur.
Each sector of Jaipur has its own unique character, blending historical heritage with modern developments. The city's layout and division into sectors showcase a well-planned urban structure that caters to the needs of its residents and visitors alike.
Weather
---
Jaipur has a humid subtropical climate with hot weather prevailing throughout the year. The city receives rainfall during the monsoon months of June to September, with an average annual precipitation of around 650 mm.
Summer extends from April to July, with an average daily temperature of approximately 30 degrees Celsius.
Winter, lasting from November to February, brings pleasant weather to Jaipur, with average temperatures ranging from 15 to 18 degrees Celsius. However, the region frequently experiences cold waves that can drop temperatures to around 5 degrees Celsius.
How to reach
---
Jaipur International Airport, located in Sanganer, serves as the primary air transit point for the city. It offers direct flights to and from major Indian cities such as Delhi, Mumbai, Kolkata, Bangalore, Udaipur, as well as international destinations including Abu Dhabi, Dubai, Sharjah, and Muscat.
The city of Jaipur is well-connected to other towns and cities through an extensive railway network. It has railway connections to important destinations within Rajasthan and across the country. The luxurious tourist train, Palace on Wheels, which starts and ends in New Delhi, covers renowned tourist destinations in Rajasthan, including Jaipur.
Jaipur is linked to major cities in Rajasthan and beyond through a well-developed highway network. National Highway 8 connects Delhi and Mumbai to Jaipur, while National Highway 11 connects Agra and Bikaner with the city. The Rajasthan State Road Transport Corporation (RSRTC) provides bus services to various parts of the state, as well as neighboring regions like Uttar Pradesh, New Delhi, Haryana, Madhya Pradesh, and Gujarat.
In summary, Jaipur enjoys convenient transportation options with an international airport, railway connectivity, and a well-connected highway network, ensuring ease of travel to and from the city and facilitating exploration of nearby destinations.
Getting Around
---
To explore the city of Jaipur, taxis and auto-rickshaws are the most convenient transportation options. They provide easy access to various attractions and destinations within the city. Additionally, for shorter distances, cycle-rickshaws offer a relatively cheaper mode of transportation.
Jaipur has city bus services operated by Jaipur City Transport Services Limited (JCTSL) and the Rajasthan State Road Transport Corporation (RSRTC). The city is served by major bus depots in Vaishali Nagar, Vidhyadhar Nagar, and Sanganer, providing a comprehensive bus network for commuting within Jaipur.
The Jaipur Metro is a relatively new addition to the city's transportation system. While still under construction in some phases, it currently serves important localities and landmarks such as Civil Lines, Jaipur Junction Railway Station, Chandpol, and Mansarovar. The metro offers a convenient and efficient mode of transportation for residents and visitors alike.